---
The Story of Morellos
---
FOLLOWING MY PASSION TO INNOVATE WITH FOOD AND BEVERAGES
Passion turning into profession.
Morellos, the name is an ode to my cooking teacher Mrs. Morello, who taught me all the nuisances of Italian cooking in my small restaurant in a suburb of Boston.
As I moved into the corporate world, I could not let go of my dream and my kitchen became my laboratory to innovate and come up with ingredients combinations and my friends and family always encouraged me. Finally, I think I have found my way to reach out to the world via a humble outlet that served overloaded shakes besides some other options that includes cold pressed juices and food. The gratitude was instant as I saw little kids literally finger licking the last few drops of the shakes while the elders couldn't resist the innovation too.
If you haven't had your share of (Mess)merising shakes (yes, it is not a spelling mistake!!), I invite you to explore what your taste buds haven't ever. Come, indulge in the overload of taste with Morellos.
Our next conversation will be when you reach there. Till then, do what you do best. Cheers!!
Shailesh Mehta, Creative chef d' shakes, Morellos.
---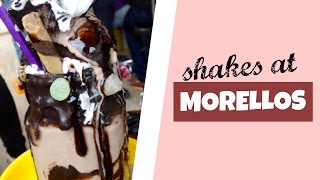 An honest review of Morellos
Loved the Tres Leche shake.. A lovely ambience, awesome shakes and to top it all up, the amazing family that runs it.. Already went twice in two weeks, now planning a third trip

It was a very lovely Experience and the Kit Kat Shake was so tasty that it is beyond the words to describe and i would highly recommend Morellos to those who are looking for mouthwatering taste.

Loved the fully loaded strawberry shake ! Grilled chicken sandwich was osm ...nice cozy place to spend evening wid ur friends ...too good!

Tried the Kit Kat Shake. It was amazing. Chocolate oozing out, marshmallows, jelly beans and of course Kit Kat. Yummy. Can't wait to go back and try their other shakes too

Fantabulous range of Shakes. Rich menu. Awesome experience. This place is a "must visit" in Gurgaon. The hospitality and service is par excellence. Way to go guys. Just do it!

What a lovely experience, a place where food is not just tasty but beautiful too. Kit Kat Shake was so tasty that it is beyond words to describe. Would highly recommend Morellos to those who are just not looking for taste but to meet the lovely family which runs it with so much passion and love. Our Best Wishes.